Cellophane display bags
You will find here all our clear plastic protective display bags for books, brochures and magazines.
All our display bags are  tailor-made !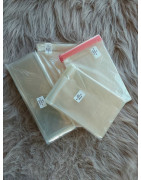 Subcategories
Cellophane bags tailor-made for books (BH, BHS, YP).

Our cellophanes display bags for every Magazines and Brochures.
(available in 2 different thicknesses, with or without reinforced borders).